Products from Markus Wiesner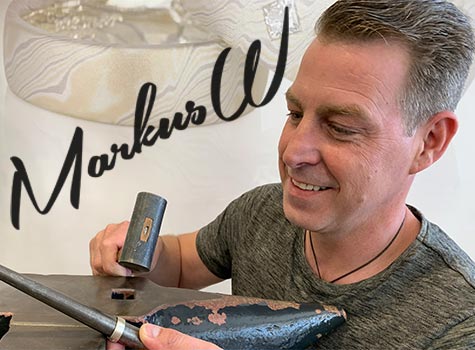 Markus Wiesner | Master goldsmith and silversmith
Born on 03.02.1973 in Ludwigsburg married, 1 child
1990-1992 Vocational school for goldsmiths in Pforzheim
1993-1994 Goldsmith Theile in Fellbach Apprenticeship as a goldsmith
1995-1998 Goldsmith Theile in Fellbach journeyman position
1999-2000 Master school at the goldsmith school in Pforzheim | graduation as master goldsmith and silversmith
since 2001 Self-employed in the family business Goldschmiede Wiesner OHG
2006 Mokume Gane course in Pforzheim
2008 Damascus steel course with Fred Schmalz in Knetzgau
2010 Mokume Gane Happening at Ravstedhus in Denmark
Mokume Gane wedding rings from passion
Master goldsmith Markus Wiesner, is one of two owners of "Wiesner - Die Goldschmiede" and has been making Mokume Gane wedding rings and jewelry with enthusiasm and passion since 2006.
In doing so, Markus Wiesner has basically dedicated himself to the classical forging technique in the endless process. These Mokume Gane wedding rings, which are forged without a seam or butt joint, symbolize the unforgettable nature of love in a unique way.
The fact that the Mokume Gane wedding rings of "Wiesner - Die Goldschmiede" are offered in each case also with butt joint, serves only to make aware that there are differences in the quality. Since some offerers of these wedding rings manufacture and offer these with butt joint, and this is not always immediately obvious, the price however clearly more favorably precipitates, we place this in our presentation directly opposite.
The second owner of "Wiesner-Die Goldschmiede" is Michael Wiesner. As a trained businessman and business economist (VWA), he fills the area of photography, web design, product ideas and presentation, and marketing. In the area of idea generation, the collections of zodiac rings (2001) and mama rings (2004) are to his credit. He is also responsible for the discovery of the Mokume Gane technique as an interesting forging art for "Wiesner-Die Goldschmiede".