Gemstones | Facts, myths and historical background.
In this small encyclopedia we try to prepare some background knowledge, historical, as well as myths about the individual gemstones for the interested reader. We hope you enjoy informing, browsing and smiling.
Aquamarine:
The aquamarine is a gemstone from the beryl group, has the hardness 8 according to Mohs and is therefore the second hardest stone after the diamond. The color spectrum of aquamarine ranges from a light blue to a strong dark blue. There is the aquamarine also in a blue-green color, but it is not very popular. However, these stones can be changed in color to a beautiful blue by firing, i.e., heating these stones to 400 to 450° C. This method is very common today. This method is used very often today, stones that have this color from the beginning, rare and therefore very expensive. The most important finding places are Brazil, Madagascar, South Africa, Ural and USA. The most beautiful aquamarines named Santa Maria come from the mine of the same name in Brazil and have an intense clear blue color. Since the natural crystals are long and columnar, aquamarines are usually cut long and rectangular. Very popular cuts are: stair cut, baguette cut, penduloque, navette or oval cut. In 1910, the largest gem quality aquamarine was found in the Gerais mine in Brazil. It had a weight of about 110 kg, was 48 cm long and had a diameter of about 40 cm. Gemstones with a total weight of over 100,000ct (1ct = 0.2 grams) were cut from this stone.

Agate - Gemstone
The agate has a special position among the gemstones, on the one hand that he has given a unique industry with the center in Idar-Oberstein his name, on the other hand he is one of the few gems not only for jewelry purposes are used but it is also bowls, handles of letter openers, knives and forks made of him. Agate is available in many variations. During the formation of agate individual layers of ribbons are formed, these ribbons can be of different colors. The colors of agate range from delicate to strong especially from pink to red to brownish. These agates were found in former times mainly in Germany in the area of Idar-Oberstein. These agates were not dyeable, the mining was stopped. The agates which are found in South America have mostly an unattractive gray color without drawing. To give these stones their beauty they are dyed. In the Middle East agate was already 3000 years ago processed into rings, vessels and gemstones. Today, agate is used more for decorative purposes such as agate eggs or to decorate the lids of small boxes. For jewelry purposes, it is mostly used as layers for making gems.
Amethyst:
It has its name from the Greek and means counteracting intoxication, so in ancient times it was considered a protection against drunkenness. From the group of quartz, amethyst is the most sought after. The color of amethyst ranges from a delicate light purple almost going into pink to a very strong dark purple. The most desirable and expensive are the dark purple stones. If you burn the amethyst at temperatures between 470 and 750°C you get light yellow, reddish brown, green or colorless varieties. Even daylight can cause some amethysts to lose color, almost to colorlessness. But the original color can be restored by radium radiation. For this reason you should not wear an amethyst while sunbathing. Mainly the amethyst is found in Brazil, Burma, Mexico, Madagascar, Zambia, Sri Lanka and Russia.

Aragonite - mythology and history
In the 18th century, the German mineralogist Abraham Gottlob Werner (1749 - 1817) named the gemstone after its presumed occurrence in Aragon. Apparently, the stone also had a hexagonal crystal shape, aös, which made the name Arragonese Apatite. But after it was proved that the stone does not consist of calcium phosphate but of calcium carbonate, it was renamed first to Arragonese calcite and then to "Arragon". In 1797 it was given the name Arragonite, although at that time the term was still written with a double "r".

Also this name remained controversial, because the Aragonite was not only found in Aragon/Spain, but also in Germany and France. Nevertheless, its name has not changed until today. In trade, the gemstone is also called oceanite, in addition to blue aragonite. The latter, because of where it was found in Argentina.
Gemstone Aragonite as "Wellness Stone"
The wellness sector attributes a stabilizing effect to aragonite. It promotes the implementation of plans and projects, stabilizes during busy times, promotes determination, without losing the necessary flexibility and tolerance.
The aragonite - scientific characteristics
The chemical formula of aragonite is CaCO3. It belongs to the mineral class of carbonates.
It is formed in fissures and cavities of volcanoes.
The blue color of aragonite is caused by copper inclusions. Colorless to brown areas are caused by additional inclusions of iron.
The crystal system of the aragonite is rhombic, its Mohs hardness is 3.5 to 4.
It is rather of poor cleavage and erupts conchoidally.
Aragonite is found and mined in Spain, Austria, Mexico, Peru and China.
Blue aragonite is preferably used to make decorative items and jewelry.
For example our aragonite donut pendant here in the store
Aragonite in Astrology
Astrology assigns the gemstone aragonite to the zodiac sign Sagittarius and the zodiac sign Aries as a harmonizing gemstone. It should help to find the right measure. Dem atrological sign Aquarius it should help to more stability.
Amber - The precious stone
Amber was formed up to 260 million years ago from viscous tree resin. Over the years, it became a solid substance. The name amber comes from the Low German börnen means to burn, because amber burns. Amber is very rarely found in the clear commercially available quality, one achieves this clarity by so-called clear boiling in rapeseed oil. This flushes out the trapped liquids, air bubbles and plant matter and the stone becomes clear. These stones are usually made into necklaces. However, amber pieces with enclosed insects or larger plant parts are also sought after. If you rub amber on a cloth, it becomes electrically charged and then attracts dust particles or even paper shavings. Already in the antiquity one made use of this characteristic and used a large piece of amber as a clothes brush. The world's largest finding place is in the former East Prussia near Königsberg today Kaliningrad. There are also large amber deposits on the bottom of the Baltic Sea. Thus, after a strong storm during a walk on the beach, for example on the island of Rügen, you can certainly find one or the other amber, which was washed up by the churning sea. Today one processes amber mostly to chains, rings, pendants or brooches

Rock Crystal:
It is often used as a diamond substitute or in costume jewelry. Sometimes rock crystals weighing tons are found, but they are usually of poor quality. Stones worthy of cutting that are used in the jewelry industry are relatively rare. The most important occurrences of rock crystal are in the USA, Madagascar, Brazil and in the Alps. Its name comes from Greek krystallos - ice, rock crystal was thought to be eternally frozen.

Chrysoprase:
It is the most valuable stone in the chalzdong group. Due to its apple-green color it is a very striking stone, it is very sensitive to heat and light. If it is exposed to strong sunlight for a long time, the color can fade. Sometimes refreshing the color is possible by storing it in a damp cloth. The most important finding place of chrysoprase, Frankenstein today's Zabkowice in Poland, has been exploited since the 14th century. In the past, chrysoprase was also used as a decorative stone in interior design. It can be found, among other places, in Sanscouci Castle, or in St. Wenceslas Chapel in St. Vitus Cathedral in Prague. Today it is used for necklaces and cut as a cabochon it is used for rings and pendants.
Calcedony:
The chalcedony names both a stone group to which among other things also the carnelian, jasper, heliotrope and the chrysoprase belong, and the stone chalcedony. This is a bluish-white-gray stone that probably got its name from an ancient city on the Bosporus. Unlike the glassy crystals, such as rock crystal, it is usually waxy or matte. It is mostly used today as a material for cameos, ring stones, seal stones and for stone necklaces. It has been processed for a very long time and is therefore often found in antiques. Columns, table tops and vases are also made from large pieces. Chalcedony is found in Brazil, Namibia, Madagascar or in India.

Citrine:
Citrine got its names from its yellow color, which resembles lemon. Naturally yellow citrines are relatively rare. Most stones on the market are burnt amethysts. Above a temperature of about 470° C the amethyst turns into a light yellow. At higher temperatures it then becomes dark yellow to reddish brown. The fired citrines usually have a tinge of reddish, whereas the natural citrines are predominantly pale yellow. Often citrines are called Madeira-, Palmyra-, Rio-Grande- or Bahiatopas, but this is not allowed, because the topaz is a higher quality stone. On the other hand, color designations such as Madeira Palmyra are permissible, as is the designation Madeira or Palmyracitrine. The most beautiful stones are made into pendants, rings and earrings, stone necklaces are made from stones of lesser quality. The places where the natural colored citrines are found are Madagascar, Brazil but also in the USA.

Diamond:
Diamond is the hardest gemstone, it has hardness 10 according to Mohs. There is no harder stone than the diamond, for this reason it is considered almost imperishable. Its name comes from the Greek adamas, the invincible. For this reason, the diamond is very popular in wedding rings and engagement rings. Especially large solitair diamonds are very popular in engagement rings. One of our models from the Mokume Gane collection, with 0.50 carat diamond is the engagement ring Hanzu. The diamond is formed from carbon at a very great depth about 150 300 km, at very high temperatures and great pressure. The Kimberley mine was the most famous place where diamonds were found. From 1871 to 1908 diamonds were mined there without the use of machines. This is how the Big Hole was created. It is the largest hole ever dug by man. It has a diameter of 460 meters and is 1070 meters deep. Today, diamonds are mined in over twenty countries. The most famous are South Africa, Namibia, Zaire, Venezuela and Russia, among others. For centuries, the diamond has been used for jewelry purposes. Because of its strong luster, rarity and high hardness, the diamond is also called the king of gemstones. The value of a diamond is internationally determined by the 4 C's Color (color), Clarity (clarity), Cut (cut) and Carat (weight). The whiter a diamond is and has no inclusions, the more valuable it is. As the yellowish color and inclusions increase, its value decreases. Some of the most famous diamonds can be admired today in museums around the world. In the Green Vault in Dresden, the 41 ct Dresden diamond is on display. In the Tower of London you can find Cullinan I also called the Star of Africa, it is the largest cut diamond with 530.20 ct. It adorns the scepter of the English royal regalia. Tower can also admire the Kohinoor 108.93 ct in London.


Emerald:
The emerald belongs to the beryl group as well as the aquamarine, gold beryl and heliodor. But the emerald is the star in the beryl group, its name comes from the Greek (smaragdos) and means green stone. The color arc of emerald ranges from light green to deep emerald green. The deep green and translucent stones are the most sought after. It is interesting to note that considerably fewer emeralds are found than diamonds, so the value of emerald is at least equal to that of diamonds. The most beautiful stones are found in Colombia. Other places of discovery are Brazil, South Africa, India, Madagascar and the Halbachtal in Austria. A 12 cm high ointment jar with a total weight of 2205 carats is in the Vienna Treasury. It was cut from a single emerald crystal. Magnificent specimens of several hundred carats can be found in museums in London, New York, in the Persian Crown Treasury and in the State Treasury of Russia. Since the emerald is very sensitive to shocks, a special cut was developed, the so-called staircase cut also called emerald cut. In this cut the four corners are blunted by facets. Clear stones in very good quality are also processed in the brilliant cut in jewelry. Emeralds that have distinct inclusions are very often cut as cabochons.

Opal:
Due to its charming iridescent play of colors, opal is one of the most interesting gemstones. The stone material itself is mostly colorless. The beautiful colors, which cover almost the entire spectrum, are created by the so-called interference, which occurs when light waves meet or overlap. Opal is very sensitive to heat, as its high water content means that it is in danger of drying out. Cracking may occur. If you keep the opal in moist absorbent cotton, you prevent it from drying out and thus also increase its iridescent color play. Cosmetics, soaps and detergents should also be kept away from it. The black opals with the iridescent layer on dark mother rock are particularly valuable. With the white opal the basic color is bright, but it also has a colorful play of colors. The harlequin opal is very popular, it has effective, segment-like color patterns, it is a transparent to translucent stone. While Hungary and Solvakia used to be the classic country of opals, today Mexico and Coober Pedy, the well-known locality, in Australia supply most of the opals. Besides the well known iridescent opals there is another opal, the fire opal. The fire opal from Mexico, which has no color play and is transparent, owes its color, which ranges from orange to fire red, to its iron content. Usually milky cloudy, the best stones are clear and then faceted.

Malachite:
Where the malachite gets its name is not clear, either from the Greek malache - malwe for the green color or from malakos soft, because of its low hardness. The special feature of malachite is the banding of light and dark layers to straight stripes or a concentric ring formation. When cutting malachite, care should be taken to express the natural striation as well as possible. Very popular are malachites with concentric ring formation, the malachite peacock. Among the Egyptians, malachite was ground into powder and used as eye shadow. The largest malachite deposits used to be near Ekatrinburg in the Urals. Blocks weighing up to 20 tons were found there. From these blocks wall paneling and inlays for the Russian tsar's castles were extracted. Today, Zambia and Zaire are the main malachite suppliers.

Sapphire:
The blue variety of the corundum group is called sapphire. Like the ruby it has the hardness 9 according to Mohs and is the hardest stone after the diamond. Its name comes from the Greek. The most popular stones are those that have a bright velvety cornflower blue. However, there are also colorless, yellow, white, orange and greenish stones. The orange to yellow-red sapphire is called padparadscha, the white sapphire is also called leucosaphire. The blue sapphire gets its color from iron and titanium. Cloudy and inconspicuous sapphires from certain localities get bright blue, durable colors by firing at a temperature between 1700 and 1800 ° C. The most valuable sapphires come from the Kashmir Valley, in Burma, Sri Lanka and Thailand are today the most economically important sites. Especially valuable, because very rare, is the sapphire on which a special light phenomenon can be seen. Above this stone seems to hover a six-rayed star made of light lines which moves over the stone when it is moved. This opaque sapphire shows an appearance called asterism, which is caused by embedded rutile needles. The star sapphire is cut semi-round in a cabochon cut. Large sapphires are very rare, so these stones are also given a name, as with famous diamonds. The largest cut star sapphire can be admired today in the American Museum of Natural History in New York. Two other famous sapphires are in the crown treasure of the English royal family. These are the Stuart sapphire and the St. Edward's sapphire.
Topaz:
With the topazes special attention is required, because with this stone it comes to the most misnomers. Thus one speaks of the gold topaz, Madeira topaz or smoke topaz. However, these stones are not topaz but quartz. Mostly they are yellow citrines or the yellow burnt amethyst. The real topaz is a rarity and is called Edeltops by good gemstone dealers. Its color scale ranges from colorless to yellow, dark brownish yellow to red, pink and blue. The pink topaz is the most valuable, but the wine-yellow stones are also sought after. Because of its clarity and purity, it is a gemstone of special fire. Because topaz has excellent cleavage, care must be taken when heating and setting it. The most famous places of discovery are Brazil, Australia, Mexico, Ural, and Sri Lanka to name a few. Around 1900, the most famous locality was in Schneckenstein in the Vogtland region of Saxony.

Lapis Lazuli:
The most beautiful type of lapis lazuli is an opaque stone of a magnificent deep blue color. Some stones contain flickering iron pyrite flecks. The fewer of these inclusions present, the more valuable the stone. Since lapis lazuli is very delicate, it is recommended to take off a lapis lazuli ring when doing housework. The lapis lazuli was known and popular in ancient times and was used for cutting signet rings. The main locality is in the western Hindu Kush mountains in Afghanistan, Siberia and Chile.

Here is a beautiful example of a gorgeous deep blue Lapis Lazuli worked into a bracelet.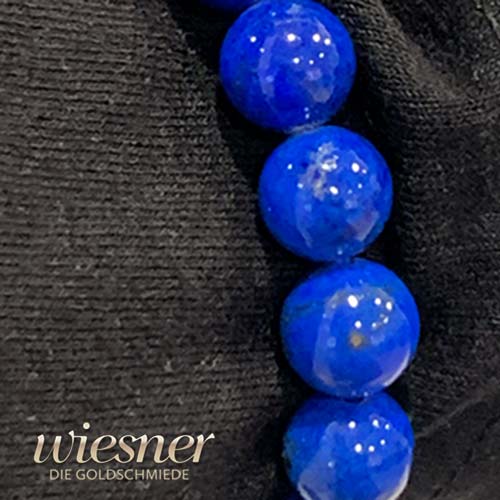 Turquoise:
The fashionable stone of the Biedermeier era is enjoying renewed popularity today due to its fashionable color. Turquoise means Turkish stone, its trade route used to go through Turkey to Europe, so the name was created. Stones in pure blue color are very rare, usually the turquoise is infused with brown to black veins. Among the most famous and important places of discovery are Nishapur in Iran, where you can find the best quality, as well as in Afghanistan, Argentina, Australia and Brazil. Turquoise is a porous stone and therefore sensitive to pressure and impact. Also, soaps, cosmetics and chemicals should be kept away from it. For this reason, a turquoise ring should always be removed when washing your hands. It is also not resistant to color, great heat, as well as sweat from the skin can cause color changes.
Tourmaline:
The name tourmaline comes from the Sinhala turmali and means stone with mixed colors. The main tourmaline deposits are found in Brazil, Madagascar, Sri Lanka and Russia. Tourmalines have also been found in Europe, for example on the island of Elba or in Ticino in Switzerland. The different colors give the tourmalines their names.

The following is a nice example of the many colors of tourmaline in a bracelet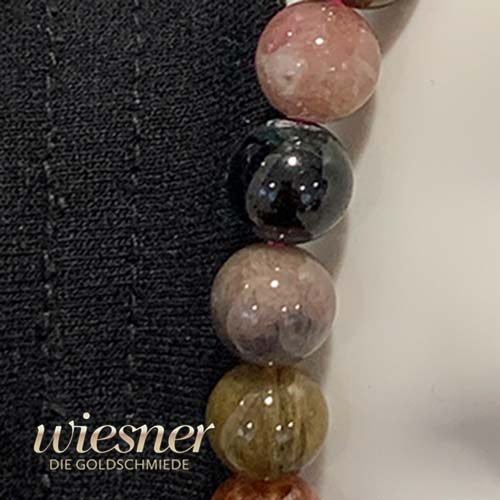 Vredelith: green tourmaline the color ranges from light green to dark green to blue-green. Rubellite: pink to red tourmaline, sometimes with a hint of violet. Chrome Tourmaline: from deep green to emerald green, which can lead to confusion with emerald. Indigolite: from light blue to dark blue. Especially popular are the crystal cross-sections, they have several colors in the cross-section. Very common are the color combinations red and green. Fiber tourmalines have tiny hollow channels parallel to the crystal longitudinal axis, cut to cabochon they show migrating light shimmer, similar to tiger eye. A good recognition feature of tourmaline is the dichorism, which means when turning the stone shows several colors. Towards the transverse axis the stone is light green towards the longitudinal axis dark green.








Ruby:
The ruby belongs like the sapphire to the corundum group. It is the hardest gemstone after the diamond with the hardness 9 according to Mohs. Its name received conditionally by its red color ( lat. Rubens). Very popular are the pigeon blood rubies, they have a very pure red with a slight tinge of blue. The ruby owes its red color to an admixture of chromium oxide. For stones with inferior color quality, better colors are often achieved by firing. Rubies are rarely found without inclusions, but this does not mean a reduction in quality, but rather proof of its authenticity. The largest ruby deposits are found in Burma, Thailand, Sri Lanka and Tanzania. Good qualities have also been found in Kenya for some years. Particularly valuable, because very rare, is the ruby on which a special light phenomenon can be seen. Above this stone seems to hover a six-rayed star made of light lines which moves over the stone when it is moved. This opaque ruby shows an appearance called asterism, which is caused by embedded rutile needles. The star ruby is cut semi-round in a cabochon cut. The ruby is among the most expensive gemstone, as large rubies are rarer than comparable diamonds. Some of the most famous stone are the Edward ruby with 167 ct , the Reeves star ruby with 138.7 ct or the peace ruby with 43 ct, this owes its name, the time in which was found, at the end of World War 1 in 1919. Very many other rubies can be found in the coronation insignia or in jewelry of the princely houses.



Jade:
In China, jade has been known for 8000 years. Since jade is very tough, it used to be a sought-after basic material for weapons. Only 2000 years ago, jade was included in the cult of the gods in China and processed into mystical symbols. Buddhas are still carved from jade today. In the 19th century, a Frenchman determined that the term jade refers to two different minerals, namely jadeite and nephrite. However, since it is relatively difficult to distinguish between these two minerals, this may be the reason for the generic term jade. Jade is not only processed to jewelry, but also very often to arts and crafts objects, such as vases and bowls. Mainly jade is found in China, Burma, Australia and Brazil.

Garnet:
Garnet varies greatly in specific gravity, hardness, and light refraction. Some varieties have their own names. Well known is the red garnet, the pyrope, whose most important occurrence used to be in Bohemia. Today the most valuable stones come from South Africa (these are sometimes wrongly called capruby), Madagascar and Australia. Dark red almost violet is the almandine, the hessonite goes into the brown-red. Rhodolite is a pink to crimson garnet from South Africa and Tanzania. From the Urals comes the emerald green demantoid which is characterized by its high light refraction. It is also found in gem quality in the Congo. The Grossular was known until a few years ago only as an opaque, gooseberry green stone. The green translucent variety found in Tanzania was first called chrome grossular and is now known as tsavorite (after Lake Tsavor near where it was found)

Precious Beryl:
Under this name are grouped the color varieties that are not called aquamarine or emerald. The best known among them are gold beryl, heliodor and morganite. Gold beryl: The color of this yellow beryl varies between lemon yellow and golden yellow. It rarely shows inclusions. At 250°C one can decolorize this stone. The most important locality are Sri Lanka and Southwest Africa. Heliodor: This is the name of the light yellow-green beryl. The name comes from the Greek and means the gift of the sun. In 1910 the Heliodor was discovered in Southwest Africa, but stones of the same color from Brazil were known earlier. Morganite: The Morganite is a pale pink to violet beryl, also called Rosaberyll. It was named after the mineral collector J. P. Morgan. Stones with inferior color quality can be improved by firing at over 400°C. The main deposits are in Brazil, Madagascar, Southwest Africa and Afghanistan. The precious beryls have a wonderful vitreous luster and are impervious to household cleaning agents. The most common cut is the staircase cut.

Carnelian - symbolism and possible effect
steadfastness and courage
walking the path to success
Recognizing and solving difficulties
bring projects to a good conclusion
Strengthening the togetherness
Helpfulness and idealism
The community in the focus, beside personal success
Carnelian - Where does its name come from?
The origin is not quite certain. The name of the carnelian, which can be written with "C" or with "K", comes either from the Latin carneolus and is there synonymous with flesh-colored, or from the Latin term "cornum", which stands for the cornelian cherry.

Carnelian shows brownish, as well as yellowish and orange hues. A beautiful example of this is the carnelian bangle in our store. Named after the Asia Minor city of Sardis, the brownish and orange carnelian was also called the sardius in ancient times. For this reason, the carnelian is still occasionally referred to as sardius.

Carnelian from a mineralogical point of view
Minerals: quartz, as a variety of chalcedony
Chemical: SiO2, silicon oxide with iron intercalation
Formation: primary
Mohs hardness: 6,7 - 7
Colors: given by iron, yellowish, orange, brown, reddish brown
Places of occurrence are: Botswana, India, Uruguay, Australia, Germany, Russia,India, Madagascar, Namibia
How is the carnelian formed in nature?
Carnelian was and is formed in volcanic rocks by the penetration of hydrous silica into the rock. The iron oxides absorbed in the process then later, after solidification give rise to the wonderful colors of carnelian.

Carnelian or sardine - history and myths
Johann Wolfgang von Goethe, who had also dealt with stones and minerals within his works, formulated the verse: "Talisman made of carnelian, to the faithful it brings happiness and good". In the Muslim culture suras are often carved in carnelian. In signet rings, carnelian is still a very popular material as a carrier of the coat of arms. In ancient Egyptian tombs, carnelian grave goods were also found, which suggests that at that time it was considered a protective stone for the deceased. Small ornamental figures and statues are often carved from the soft carnelian until today.
Carnelian - chakras and astrology
The colors of the carnelian, namely red and orange are assigned to the second chakra. This represents the themes of vitality and energy. Also the themes, relationships, encounters, creativity and affection are attributed to the second chakra. In astrology, carnelian is assigned to the zodiac signs Aries and zodiac sign Cancer.
Carnelian is often burned in processing.
Carnelian, which occurs in nature only a few centimeters in size, usually shows an inconspicuous yellow-brownish coloration. For this reason, many carnelians are heated to produce a more attractive and decorative coloration by converting iron hydroxide to iron oxide. We mark these carnelian jewelry pieces which are made from fired gemstone with "fired".

Coral:
Coral is formed by small polyps in the sea. The stick is grown with a wide foot on the seabed, on rocks or on older coral sticks. With a height of up to 40 cm and an average weight of 10 kg, some coral canes have a stem diameter of 6 cm. The main coral occurrences are on the coasts of the western Mediterranean countries. According to their main occurrence, the color designations and quality designations originate from Italian. The best known color name is probably pelle d'angelo - angel skin. This coral is of a pale pink color with pale reddish spots and is very popular in jewelry making. Since the coral is very soft, it is sensitive to heat and acid, also when bathing or showering coral jewelry should be removed. Before the coral can be made into jewelry, it must first be cleaned of carbonic acid lime, with which it is usually coated. The cleaned coral sticks are sawed, cut and polished, drillings for stick chains or for fastening to brooches are made similar to those in the jewelry stone industry. Stronger pieces of branches are mainly processed into beads.

Rose quartz - history and mythology
Rose quartz was dedicated to Cupid, the god of love in Roman mythology. In ancient Greece, Eros was known, to whom the rose quartz was assigned. In both cultures, people made and wore amulets, or as we would say today, necklaces and pendants, with rose quartz. Harmony, love and fertility, even sexuality should be favorably influenced. Also in the Middle Ages, was the rose quartz, which incidentally at that time was also mined in the Bohemian Forest, a much loved gemstone. "Love magic", alleviation of heart complaints, as well as women's ailments one tried to influence favorably with the rose quartz. Even today, it enjoys great popularity among lovers and all topics related to closeness and affection. He is often chosen in cut and polished heart shape and given away. For example, as a rose quartz pendant, or rose quartz necklace. Below is also a small excerpt from a rose quartz bracelet from our collection.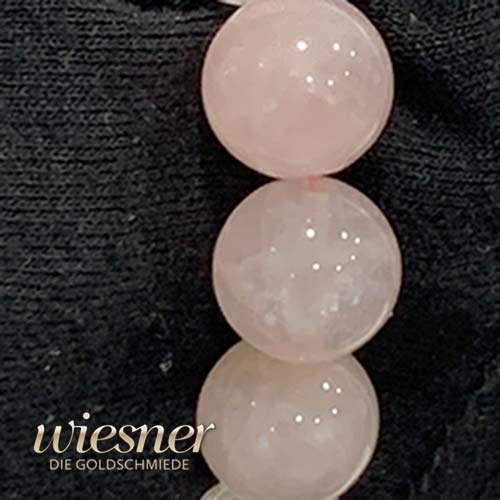 The Rose Quartz as a "Wellness Stone
Rose quartz is said to have circulation-enhancing effects, especially on tired and weary skin. For sensual partner massages, but also for normal wellness massages, rose quartz massage balls and massage rollers are often used. Workplaces, as well as living rooms and bedrooms can be harmoniously influenced with cut or raw rose quartz. Likewise, some people also used the rose quartz for their meditations, in which they put a circle around themselves with the gemstones. In all these areas of application, the individual must and can make his own experiences.

The rose quartz as a gemstone
As a gemstone, the rose quartz, with its pleasant color is not only a beautiful sight, but can be worn without hesitation, with or without skin contact, even for a long time. As a rose quartz pendant, or necklace chain for example.

The rose quartz has its name after its pink color. Mostly it is processed to pure stone necklaces, its very small rutile needles cause a six-rayed star in a cabochon cut. These stones are then made into pendants or rings. Only very clear stones are also faceted. The rose quartz is found in Brazil, Madagascar, India and Sri Lanka, among other places.

The rose quartz in astrology
Astrologically, the rose quartz is assigned to the zodiac sign Taurus and the zodiac sign Cancer. The powers unfold best in the 4th chakra, the heart chakra.

Schörl or black tourmaline - symbolism and effect
The Schörl is often used as a collector's item, but also for the interference suppression of electrical devices.
Energy overflow, as well as energy deficiency can be harmoniously influenced by the Schörl.
Harmonizing in case of great stress.
Helps to take a calm serene attitude.
The Schörl is often used at home and at the workplace and on desks to harmonize negative electronic influences.
Promotes perception and creativity
Recognize larger contexts and control developments, as well as bring them to a positive conclusion.
The Schörl from a mineralogical point of view:
Minerals: ring silicate of the tourmaline family
Chemical: NaFe3Al6[(OH,F)4/BO3)3/Si6O18]
Formation: in magma
Mohs hardness: 7 - 7,5
Colors: black
glassy luster
no fissility
localities are: Madagascar, Namibia, Pakistan, USA and Brazil
Where does the Schorl get its name from?
The name of the Schörl, or its origin is not perfectly provable. It is believed that it was named after its first sites, namely the Saxon town of Zschorlau, or the town was named after the black tourmaline, Schörl.

Schorl is very friable in its original state
Since the schorl is very friable in its natural state, it is stabilized for the production of larger pieces. For this purpose, the schorl is impregnated with a resin, which after hardening gives it a workable and usable stability.

The Schörl in the astrology
Astrology assigns the Schörl to the zodiac sign Capricorn, which can thereby gain flexibility. It is furthermore assigned to the root chakra, but also to the other lower chakras 1 - 4.

Zircon:
Zircon is formed by a compound of the metals silicon and zirconium with oxygen It has the strongest refraction of light after diamond. Zircon is found in Ceylon, Australia, Siam and South Africa. The colors of zircon range from colorless, yellow, yellow-red, red, blue, light brown to brown. For jewelry purposes, mostly colorless , yellow, light brown or brown stones are used. Zircon can be changed in color by firing or radium irradiation. It often happens that zircons which have received a different color by irradiation, change it again when heated or in daylight. The colorless zircon is often confused with rock crystal.
ylight. The colorless zircon is often confused with rock crystal.