No results were found for the filter!
GravoMokume (pattern engraved):
The GravoMokume is a ring or wedding ring made of stainless steel, as well as precious metals such as yellow gold, white gold, red gold, etc. The pattern of a Mokume Gane wedding ring has been superficially added by means of engraving. Basically, this can be easily recognised by the fact that no pattern can be seen on the inside of the rings or the pattern itself does not have a two-tone colour. It may be that an apparent two-tone effect was created by blackening the engraving with a laser or suitable chemicals.
If the engraving is sufficiently deep, it is also possible that a second colour could be applied to the engraving. For example by working yellow gold into the engraved patterns of a white gold ring. The production of a wedding ring in GravoMokume is relatively easy and quick. For example also with an engraving laser.
MokumeCover (Mokume covered):
MokumeCover is a thin, mostly 0.5 - 0.8 mm thick Mokume Gane sheet, which is wrapped around an existing stainless steel or precious metal wedding ring and soldered to it. It should be noted that the Mokume Gane sheets used are usually actually welded and patterned precious metals. Yellow gold, white gold, red gold, green gold, platinum or palladium, as well as silver may have been used. The combination of copper and silver is also often found in MokumeCover.
Like GravoMokume, MokumeCover can be recognised first of all by the fact that the typical pattern is not to be found on the inside and the edges of the wedding rings. A further distinguishing feature is the pattern interruption, which can be clearly seen as a transverse line on the outside of the rings. In very rare cases an endless pattern can also be found.
Compared to GravoMokume, MokumeCover wedding rings are somewhat more complex to produce. A ring width change, especially the extension of a wedding ring, is hardly possible with MokumeCover.
MokumeSeam (soldered ring):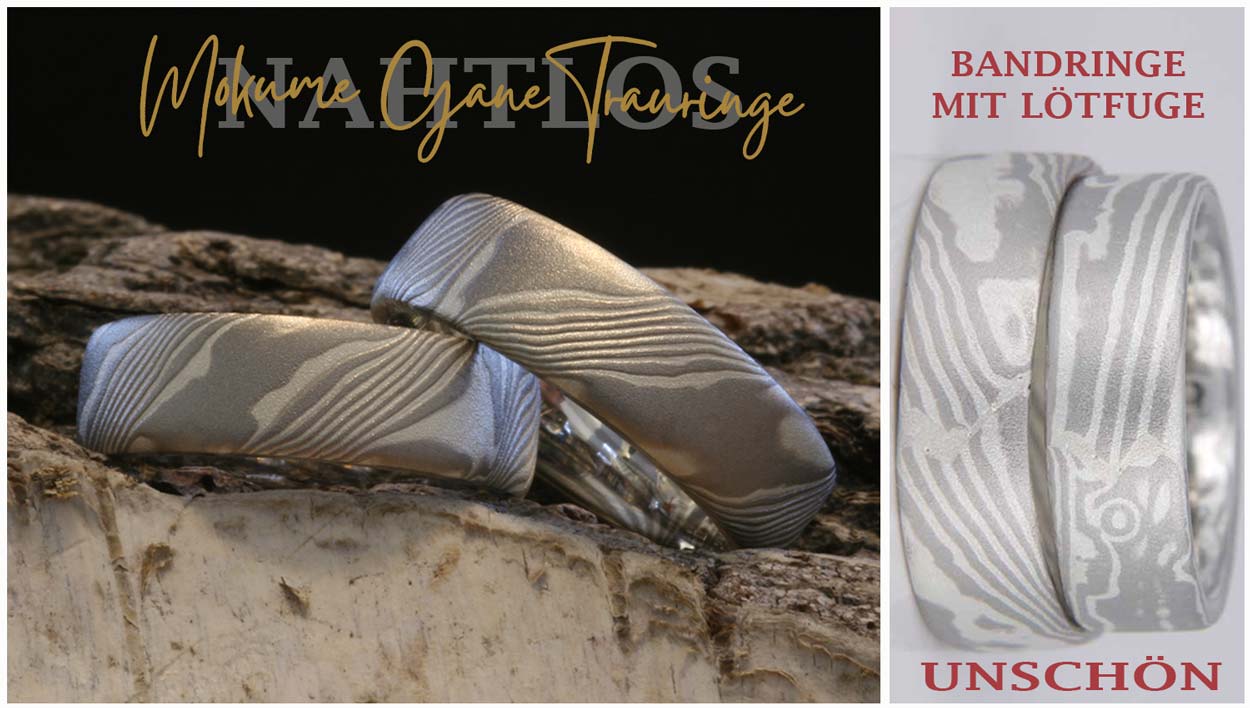 MokumeSeam wedding rings are also known as band rings according to their design in the goldsmith's trade. A Mokume Gane strand is made of various precious metals, or possibly non-precious metals, and rolled into a sufficiently long band.
The goldsmith then forges this band into a round ring until the two ends of the band touch. There the wedding ring is then soldered.
This is a tried and tested technique used by goldsmiths to produce rings or wedding rings. In this respect this technique is also used in the production of many a Mokume Gane wedding ring.
Every now and then we could find MokumeSeam wedding rings in the web, which were very cleverly soldered together diagonally in a diagonal pattern. Here even the expert must look closely to see the time-saving trick. MokumeSeam wedding rings can cause serious problems with ring width changes and can break open at the solder joint.
Mokume Gane wedding rings in seamless technique (traditional technique, forged endlessly without hem)
This is the traditional forging technique of Mokume Gane wedding rings, as every goldsmith who accepts and masters the challenge of splicing Mokume Gane material will do.
Basically, this is the only type of forging that does justice to the symbolism of a wedding ring, namely endlessness. These traditionally manufactured Mokume Gane wedding rings can be recognised by the pattern which is visible on the inside and outside, as well as by the continuous pattern running around the ring. Besides the advantage of not having any unattractive pattern interruptions, endlessly worked Mokume Gane wedding rings can be changed in the ring width without any problems.
"Wiesner - Die Goldschmiede" exclusively offers Mokume Gane in seamless technique (traditional technique, endless pattern).
Mokume Gane wedding rings from our workshop in seamless technique: